Oriana Homèl Turin
The 8 top-quality suites are just a few minutes from the most beautiful squares and museums in Turin, renowned all over the world. All of this for you to visit the city in comfort and freedom, with high quality standards.
The amenities and the entire period building in Via Giolitti are a gem to enjoy.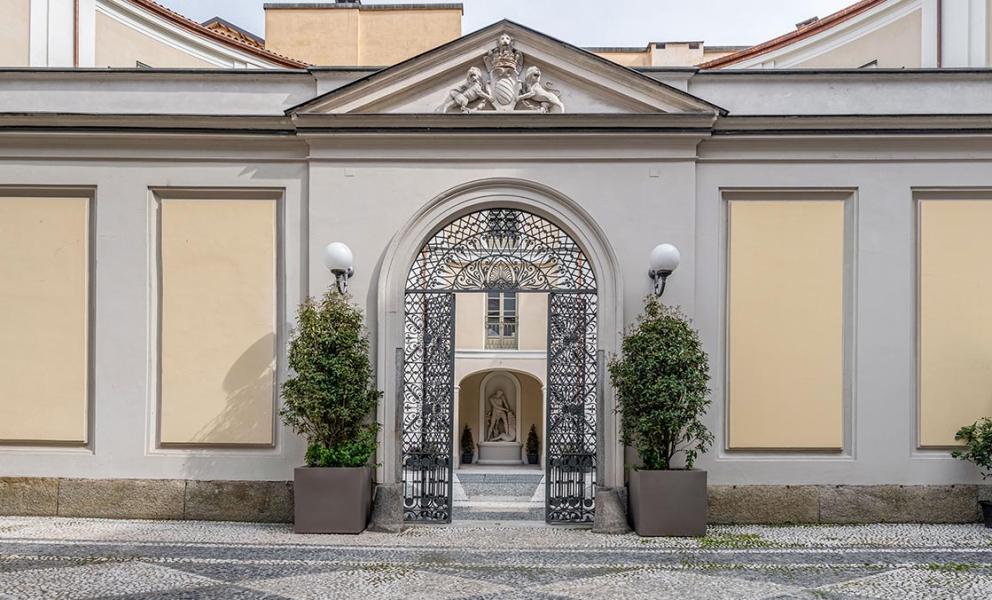 The Suites
Oriana Homèl Turin
LIVING AREA WITH KITCHEN AND SOFA BED

A Superior Suite with relaxing taste and colours. A certainty to spend a holiday in the name of beauty and surprise.

The eat-in kitchen allows you to be independent and have everything close at hand. The two bathrooms guarantee the right privacy and the eat-in kitchen with sofa bed is a functional and modular mix for a minimum of 2 to a maximum of 4 people.

Deluxe suite with terrace
LIVING AREA WITH KITCHEN AND SOFA BED

Overlooking Via Giolitti, next to the wonderful Royal Museums and the historic cafés of Turin.

Whether you are passing through or want to spend longer in the Parisian "passages" in the heart of the Savoyard city, the Deluxe Suite with terrace is an invitation to extend your stay. You will find a double bedroom with two modern and bright bathrooms, an eat-in kitchen and a panoramic terrace.

1 DOUBLE BEDROOM
1 BEDROOM WITH SOFA BED

The large and bright spaces of the Family Suites are perfect for families or groups of friends, up to a maximum of 6 people.

The rooms are well-kept and equipped with all comforts: from an eat-in kitchen to the living area. The two bathrooms with suspended toilets and extra-large shower box ensure top stay comfort.

LIVING AREA WITH KITCHEN AND SOFA BED

A suite is perfect when it is functional and suited to the needs of the most demanding guests.

The Classic Suite is the perfect choice for those who want privacy, tranquillity and well-arranged spaces in the heart of Turin. The elegant furnishings and amenities of a Luxury Apartment are the best business card for short or long stays.

ONE-ROOM APARTMENT WITH KITCHEN

A functional and modern studio for two people. The king-size bed with striped sheets in your suite ensures restful sleeps.

A nest in the heart of Turin suitable for couples wishing to visit a timelessly beautiful city. You are just a few steps from the Mole Antonelliana and the Valentino Park, a guarantee of an unforgettable holiday.

Signature Services
Warm like a home, Professional like a hotel.
In via Giovanni Giolitti 19, a few meters from the Egyptian Museum and Piazza San Carlo, in the historic centre. Due to the restricted traffic zone rules in force Monday to Friday, 7.30 to 10.30 am, we recommend that you park in Piazzale Valdo Fusi or at the Albertina garage. Oriana Homèl Turin can easily be reached by taxi, train and plane. Consult our FAQ.